Banana Fish lidera el top 100 de anime escogidos por los fans en el Tokyo Anime Award Festival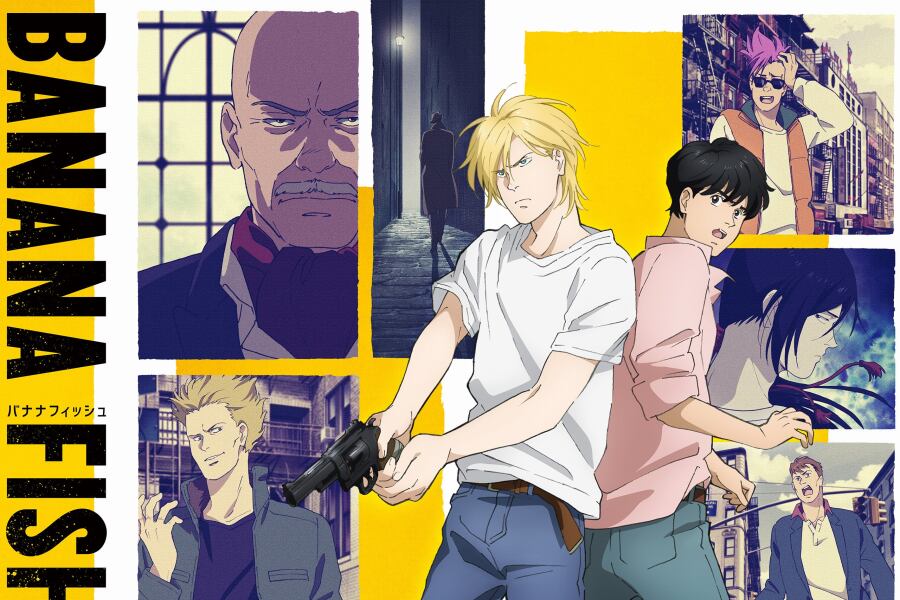 Banana Fish fue el anime más votado por los fanáticos y de entre estos 100 saldrá el ganador del "Anime of the Year".
---
Como todos los años, el Tokyo Anime Award Festival, dio a conocer el top 100 de los títulos de anime (90 series y 10 películas), que se lanzaron entre el 15 de octubre de 2017 y el 13 del mismo mes del 2018.
La lista, que se realiza en base a los votos de los fanáticos de forma online, tuvo como gran ganador a Banana Fish, serie que se estrenó en julio de este año y que se encuentra basado en el manga escrito e ilustrado por Akimi Yoshida.
Las votaciones, que corresponden principalmente a público japonés, se realizaron entre el 17 de noviembre y el 24 de diciembre a través de la página del festival y en ella participaron 397,145 personas, lo cual es un récord en los 16 años del galardón.
Pero esto no culmina acá, ya que entre estos 100 títulos saldrá el gran ganador del "Anime of the Year", el cual es escogido por expertos de la industria, es decir, productores, creadores, críticos, integrantes de tiendas de animación, etc.
De la misma forma los fans podrán votar por el ganador del "Anime Fan Award" a partir del 14 de enero de 2019.
Acá te dejamos el listado de los 100 anime que conforman la lista.
1. "BANANA FISH"
https://www.youtube.com/watch?v=L7ptGWLX1aE
2. "A Place Further than the Universe"
3. "Cells at Work!"
4. "Laid-Back Camp"
5. "Zombie Land Saga"
6. "IDOLiSH7"
7. "SSSS.GRIDMAN"
8. "Land of the Lustrous"
9. "POP Team Epic"
10. "Violet Evergarden"
11. "Bloom Into You"
12. "JoJo's Bizarre Adventure: Golden Wind"
13. "Overlord II & III"
14. "Asobi Asobase"
15. "Umamusume: Pretty Derby"
16. "Rascal Does Not Dream of Bunny Girl Senpai"
17. "Goblin Slayer"
18. "Girls' Last Tour"
19. "Steins;Gate 0"
20. "Attack on Titan Season 3"
21. "Dream Festival! R"
22. "Shoujo Kageki Revue Starlight"
23. "That Time I Got Reincarnated as a Slime"
24. "HINAMATSURI"
25. "Mr. Osomatsu Second Season"
26. "The Idolm@ster SideM"
27. "My Hero Academia Third Season"
28. "Cardcaptor Sakura: Clear Card"
29. "Golden Kamuy First & Second Season"
30. "Sword Art Online Alicization"
31. "Lupin The Third Part 5"
32. "Zoku Touken Ranbu -Hanamaru-"
33. "Free!−Dive to the Future−"
34. "Kino's Journey -the Beautiful World- the Animated Series"
35. "Karakai Jozu no Takagi-san"
36. "Blood Blockade Battlefront & Beyond"
37. "Yowamushi Pedal GLORY LINE"
38. "Run with the Wind"
39. "Wotakoi: Love is Hard for Otaku"
40. "The Ancient Magus' Bride"
41. "Detective Conan"
42. "DAKAICHI -I'm being harassed by the sexiest man of the year-"
43. "Fate/Apocrypha"
44. "Hozuki's Coolheadedness 2"
45. "Planet With"
46. "Hi Score Girl"
47. "Gintama. Shirogane no Tamashii-hen"
48. "Sword Art Online Alternative Gun Gale Online"
49. "Hugtto! PreCure"
50. "DARLING in the FRANXX"
51. "Yuki Yuna is a Hero: Washio Sumi Chapter/hero Chapter"
52. "Skull-face Bookseller Honda-san"
53. "Love Live! Sunshine!! Second Season"
54. "Working Buddies!"
55. "Hakumei and Mikochi"
56. "The Disastrous Life of Saiki K. Second Season"
57. "Encouragement of Climb Third Season"
58. "Magical Circle Guru Guru"
59. "A Certain Magical Index III"
60. "The Ryuo's Work is Never Done!"
61. "Mitsuboshi Colors"
62. "Katana Maidens ~ Toji No Miko"
63. "Comic Girls"
64. "March comes in like a lion. Second Season"
65. "Iroduku: The World in Colors"
66. "Idol Time Pripara"
67. "Shinkansen Henkei Robo Shinlkalion The Animation"
68. "Ms. Vampire who lives in my neighborhood."
69. "The Idolm@ster Cinderella Girls Theater Second & Third Season"
70. "UzaMaid!"
71. "Mr. Tonegawa: Middle Management Blues"
72. "Angel of Death"
73. "Welcome to the Ballroom"
74. "DYNAMIC CHORD"
75. "The Idolm@ster SideM SideM Wakeatte Mini!"
76. "Tada Never Falls in Love"
77. "School Babysitters"
78. "GRAND BLUE"
79. "Happy Sugar Life"
80. "Slow Start"
81. "PERSONA5 the Animation"
82. "Magical Girl Ore"
83. "Legend of the Galactic Heroes Die Neue These 'Kaikou'"
84. "How Not to Summon a Demon Lord"
85. "Konohana Kitan"
86. "citrus"
87. "Hakata Tonkotsu Ramens"
88. "Gintama. Porori-hen"
89. "Gundam Build Divers"
90. "Aikatsu Friends!"
Top 10 películas anime
1. "Detective Conan Zero the Enforcer"
2. "Girls und Panzer das Finale: Episode 1"
2. "Natsume's Book of Friends the Movie: Tied to the Temporal World"
4. "Liz and the Blue Bird"
5. "Is the Order a Rabbit?? ~Dear My Sister~"
6. "My Hero Academia: Two Heroes"
7. "Non Non Biyori Vacation"
8. "Bungo Stray Dog Dead Apple"
9. "Waka Okami wa Shogakusei!"
10. "Pokémon the Movie: The Power of Us"
Comenta
---
---